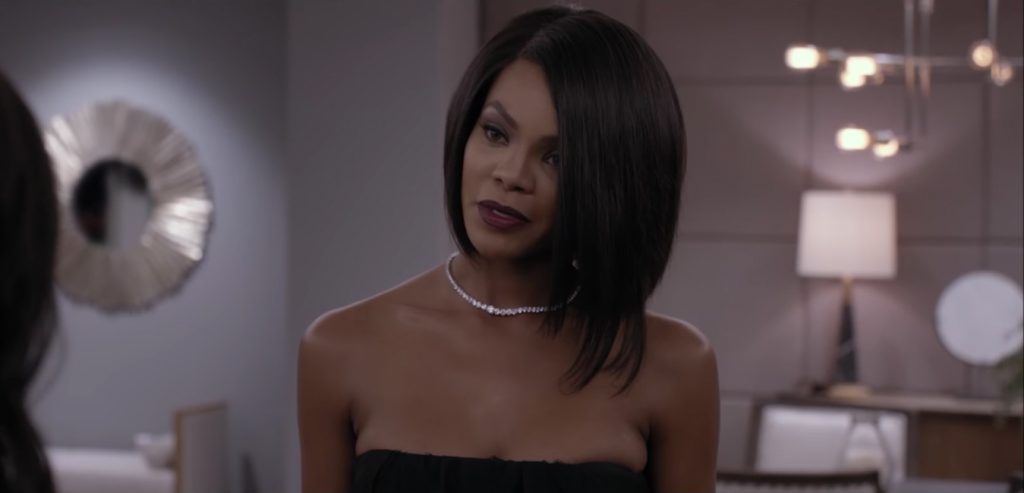 Hey Family
Before I can get into this movie, I will use some colorful words from time to time. If this will not be your cup of tea, I'm asking that you exit out of this BLOG entry, and I'll see you in the next.
Thank youuuuuuuuuuuuuu!
 When the movie first came on, the look in Melinda's eyes told me she was out of her hook up. Meaning…..CRAZY!!! You could look at her and tell she was very disturbed about something as she sat on the couch. I love to get into people's head, and it was very easy to get into her's to see her way of thinking. When her mom passed away and she inherited lots of money, even though I'm not sure if I would have done that much for him but If I saw potential in him, I may have helped him out. Then another part of me feel that she was too young to spend that kind of money on someone. Maybe that's the older person in me talking, but I was her age, and I don't see that being in my Spirit at all. LOL
The part that pissed me off was that she bought him that car, and he didn't call her for a few days. Um cuse meeeeee…….Any woman in their right mind would do a "ride by" his place to see if they could see another woman.  I'm not going to buy you are car, and you diss me for a few days. Nope! I would have never thrown the brick through his car,  or ran through the trailer home the way she did but I would have knocked on the door.   Aint NO WAY….. this Virgo would leave there and not find out was someone there with him. But She suffered the consequences of doing that, by never being able to carry a baby. If he got mad and asked why didn't I call first, I would have told his ass, because dammit you aint been calling and I wanted to make sure you were okay. (( looking around for evidence of another woman)). But when Mel realized it was another woman over, I would have nutted up too. Flat out! I don't hit or fight, but I would have cursed him coming and going. But I did love the fact that he left Diana alone  after that incident, and he and Melinda eventually got married.  
One factor in Melinda being "crazy" is that she didn't mind supporting his dream, but this Negro wanted to "baby" this dream all day every day. He should have did more to support her. He should have at least work part time to help her out with the bills, That took a toll on her. After a while any person would be like… "Come on naw shit, we still gotta pay bills around here". I'm not about to work 2 jobs, slowly lose my husband, and deal with tension in the house because I'm becoming fed up with everything. He should have met her half way. He should have considered her feelings a little bit more. There is nothing wrong with having a dream, but you can't watch your mate do all the work. That's just not fair. That's selfish and unacceptable.
But too, I see his side. He was focused, driven, knew his worth. He KNEW in his heart that this dream was going to take off. He knew it. It was just a matter of when. He was hoping that his wife would just hold on just a little bit longer and everything she went through would pay off. But she was growing bitter by the day. She didn't know how much she could take of his promises of taking care of her. They were sinking in their NOW… and he should have done more to make her feel secure. To make her feel like still loving him.
Those Sisters! One thing about me and my 2 Sisters, we DO NOT talk about what goes on (( the bad)) in our relationships. I love my brother n law (( my baby sister is married)) and as long as they are NOT FIGHTING AND CHEATING on each other. I don't care. I want to look him in the eye never knowing any of his shortcomings. I want to enjoy myself around them, and not know their business, unless they are both in the room and they want to ask my opinion ((( and they always do lol)). In this movie (( which was so dayum good)) these sisters knew too much. OMG, they kept the secrets of their nothing husbands to themselves, but LIVED in Melinda's. That's a lesson in itself. Somethings you keep to yourself. Many times Sisters and Family really want the best for you, and will not tolerate anyone using you, I get that. But these Sisters were wrong in somethings, and stepped way over the line of what they knew. They caused her to lose everything, being too far in her BUSINESS! I don't play that shit at all! I don't want to know all of yours, and you're not going to know MINES.
Okay, so Melinda told her husband to get out after the Sisters "caught a plane" to her house and told her about the wallet. I kinda believe that Diana left it in the truck on purpose. How the hell does a woman forget she doesn't have her wallet? Women don't forget about those things. We realize that its missing right away. We can go in our purse and know something is missing from it. She needed Melinda to know she was back on the scene, she left it on purpose. Made me mad!! Then when she got it back, she act like she didn't know it was missing… gurlbye
During the time the Sisters broke their necks to tell Melinda about the wallet, her husband was in the meeting about his invention. I almost walked out the movies (( not for real, but in my mind)) when he turned down that $800.000. I said nigga are you serious right now? Your wife just lost her mothers house, you haven't held down a job in God knows how long, your wife is pissed at you forEVA, and you turn down this kinda money? You must be out your eva loving mind.. But you know what? When you know your worth, and you know what they're offering you is garbage, and you know they know, that this is more money than you have ever seen, they are expecting for him to take the deal. But, HE KNEW HIS WORTH. And in his mind he would rather walk out and "try again", than to be undersold. I loved that about him. I had to put my anger aside about the situation and think on a higher level. I hate that Melinda was so far gone in her mind about everything, that SHE COULDN'T see the bigger picture. Sitting in that theater I couldn't either at first. I had to think about it. That was another thing that caused her to lose her marriage.
When he came up to her job, with the check, keys, and flowers she was still mad. At some point if it was meeeeeeee. I would have been happy to see him and really paid attention to what he had to say. He still loved her and wanted it to work. Bitterness had already set in and she was done with him …. for a minute. That's when she went home thought about everything and nutted up on her sisters and their husbands. That's when she came to realize that her husband didn't cheat, he still loved her and wanted it to work, and not only that, but, he finally got the money that he deserved from his invention. She started thinking and realized that she still loved her husband, and she wanted him back.
She was too late. I'm not sure how much time went by before she went to his place and met back up with Diana. Ohhh, I hated that part. I HATED when she said… "Hi, I'm Diana, I'm Robert's fiance."  Like it was okay to be Diana at that time. I was on fire sitting in my seat. Now, I have no problem with him moving on, and having someone new…. but DIANA FROM BACK IN THE DAY.. OH HELL NAW… Not gon be able to do that one. Yes, I know Melinda had the chance to get her husband back many and plenty of times, and true she didn't go for it. But to finally come to your senses and to find out your EX-Husband is with a gurl he got caught cheating on back in the day…. JUST NOT GOING TO WORK FOR ME. Now, would I do all those things she did to them? Never, I would never put that much energy into them like that. Never ever. But I would be highly pissed!
Melinda went home thought about everything she did for this man, and she became enraged. Now, I wonder if she would have felt that way if it was someone else. See, that's the big picture for me. That's a hard pill to swallow when your EX husband met back up with and marries the same gurl BACK IN THE DAY that he cheated on you with. I'm not sure if she would have been that crazy had it been a new gurl. Because yesssssss, at this point…. she WANTED THE MAN…  THE MAN..  THE MAN.
He had already given Melinda the money back, she was cool with that part. She wanted the man and that's how I felt. I would want my man back too. Then here comes Diana reaping the benefits of the man he is now. HELL NAW.. I would be mad too. I can deal with the fact that he's moved on… but just not with her. NOPE…. Not gon be able to do that Tyler. But, in the end I would be quiet and allow God to heal me, because I would surely need it.
Then….. Diana says in court which for real almost made me have a stroke in the movies, when she said something like… its okay, I cant fit the dress anyway … because I'm pregnant.(( Something like that)) You could have poured gasoline all over me and set me on fire in the movies, I wouldn't have felt anything.  I was numb!! Here Melinda is cant have any kids because of what happened back in the day…. and HERE YOU COME DIANA… and you're pregnant with his baby……I was DONE! LOL Aint go lie… I was HEATED! I remember slouching down in my chair mad as hell! See women know when they let a BUM go on with his life. We have no regrets about those types leaving our lives. We know the difference. But a good man like Robert, its just not that easy to move on with your life without thinking about it daily for a while.
I hope that Melinda isn't dead, maybe Tyler could revisit that story and allow her to find some peace about the situation. Sadly, I know a few people this story applies too. I really enjoyed this movie because it made me feel some kinda way, made me think about a certain situation that I think about often.  I learned that you really have to let go of things, because it could drive you crazy. I wonder if she is still alive, how in the world could she come back from that, and still be a sane person? How would she deal with the fact that she believes this lady is "living her life."